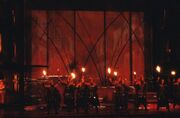 Trommeln in der Stadt
(City Under Siege) is a song from
Der Glöckner von Notre Dame
that uses Sanctuary from the original soundtrack. This song opens Act 2 and it expresses what the citizens think of Crazy
Frollo
's search for
Esmeralda
. At first when they though it as just about "cleansing" (creepy word choice huh?) the city of Gypsies that was fine but with the all the soldiers, blockages and fire they're are none to happy about it.
CITIZENS OF PARIS:
City under siege
There are soldiers marching in the street
City under siege
There are cries at night and running feet

CLOPIN:
Frollo and his legions
Policing the town unceasingly
Cordoning the regions
And searching them one-by-one

CITIZENS OF PARIS:
Little did we know
When our Justice Minister
Said the Gypsies ought
To be brought to none
Somehow it would grow
Into something sinister
Till we all were caught
In a city under siege...

City under siege
There are squadrons flanking ev'ry side
City under siege
And it's hard to find a place to hide
Armored men on horses
Imposing a state of martial law
Marshaling their forces
To finish what they've begun

Justice Frollo told us
That he was freeing us
From the Gypsy hordes
Who would overrun
Now we've got his soldiers
Overseeing us
Brandishing their swords
In a city under siege!
Ad blocker interference detected!
Wikia is a free-to-use site that makes money from advertising. We have a modified experience for viewers using ad blockers

Wikia is not accessible if you've made further modifications. Remove the custom ad blocker rule(s) and the page will load as expected.