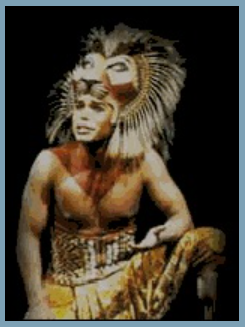 "Endless Night"
is a musical number from
the Lion King stage musical
. It was sung by
Simba
with Chorus as he remembers what his father, King
Mufasa
, told him about being there for him after an incident with
Timon
reminded him of his father's death.
Simba:
Where has the starlight gone?
Dark is the day
How can I find my way home?
Home is an empty dream
Lost to the night
Father, I feel so alone
You promised you'd be there
Whenever I needed you
Whenever I call your name
You're not anywhere
I'm trying to hold on
Just waiting to hear your voice
One word, just a word will do
To end this nightmare
When will the dawning break
Oh, endless night
Sleepless I dream of the day
When you were by my side
Guiding my path
Father, I can't find the way
You promised you'd be there
Whenever I needed you
Whenever I call your name
You're not anywhere
I'm trying to hold on
Just waiting to hear your voice
One word, just a word will do
To end this nightmare
I know that the night must end
And that the sun will rise
And that the sun will rise
I know that the clouds must clear
And that the sun will shine
And that the sun will shine
I know that the night must end
And that the sun will rise
And that the sun will rise
I know that the clouds must clear
And that the sun will shine
And that the sun will shine
I know
(Yes, I know)
The sun will rise
(Yes, I know)
I know
The clouds must clear
I know that the night must end
I know that the sun will rise
And I'll hear your voice deep inside
I know that the night must end
And that the clouds must clear
The sun
The sun will rise
The sun
The sun will rise
Composer(s): Lebo M, Hans Zimmer, and Jay Rifkin
Lyrics By: Julie Taymor