"Part of Your World (Finale)" is the closing song of the Little Mermaid. It is the song played for Ariel and Eric's wedding day after the defeat of Ursula. Ariel meets with her father to say goodbye one last time. She and him hug, and she whispers the words, "I love you daddy." After which the chorus begins.
Broadway Lyrics
Edit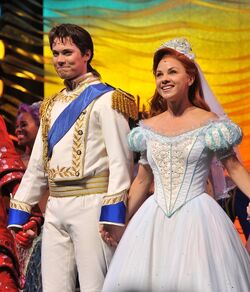 Ensemble
And now at last,
love has surpassed,
each tribulation!

Mermaid and man,
finally can,
join and be one!

Now they can smile,
walking the aisle,
here at their wedding celebration!

Eric
Sailing forward!

Ariel
Standing steady!

Both
Starting life, completely ready!

Ensemble
And now they can be who they're meant to be!
Now they can gaze on a new horizon!
Here between ocean and sky!
Forever and on!

Now they can walk,
Now they can run,
Now they can stay all day in the sun!

Eric
Just you and me!

Ariel
And I will be!

All
Part of your world!
Ad blocker interference detected!
Wikia is a free-to-use site that makes money from advertising. We have a modified experience for viewers using ad blockers

Wikia is not accessible if you've made further modifications. Remove the custom ad blocker rule(s) and the page will load as expected.