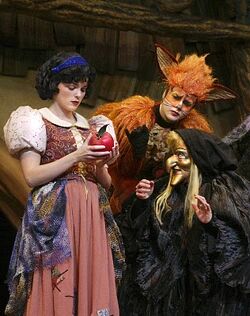 Snow White: An Enchanting Musical is a former theme park show that played at the Fantasyland Theatre at the Disneyland Resort in Anaheim California. It is based on the 1937 animated film and ran from 2004-2006. The show received mixed reviews. It began performances February 13, 2004 and opened February 23, 2004. It closed in 2006.
Show summary
Edit
This 25-minute musical production brings the story of Snow White to the stage as it follows her from The Queen's Castle to the Cottage of the Seven Dwarfs in the Enchanted Forest. Incorporating many of the favorite songs from the movie, like Whistle While You Work and Heigh-Ho, this show brings to life the classic scenes.
Wonderfully detailed sets like the castle and the cottage help to recreate the look of the movie. There are a variety of special effects, including the animation of Magic Mirror.
Ad blocker interference detected!
Wikia is a free-to-use site that makes money from advertising. We have a modified experience for viewers using ad blockers

Wikia is not accessible if you've made further modifications. Remove the custom ad blocker rule(s) and the page will load as expected.