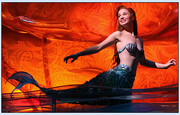 "The World Above" is a song from the Musical version of The Little Mermaid, and is sung by Ariel.
Ariel
This is where I belong
Beneath the clear wide blue here!
I feel completely new in here in the world above!

It's like my life was wrong
And somehow now, at last I'm in
My own skin
Up here in the world above!

There's so much light here
Light and space
The sun's so bright here
upon my face!

It feels so right here
Warm as love
Life seems to be
almost calling to me
from this strange new world above!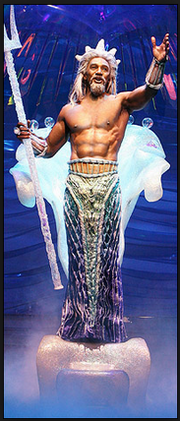 There is a reprise sung by Ariel and 
King Triton
as he destroys Ariel's Grotto.
KING TRITON
This is where you belong!
ARIEL
You don't understand!
KING TRITON
For once, just listen, will you?
That savage brute would kill you in the world above!
ARIEL
He's not a barbarian—
KING TRITON
Don't try that same old song!
I'll have you grounded 'til next year!
Am I clear?
Don't go near that world above!

ARIEL
I'm not a child anymore!

KING TRITON
No? Have you lost your senses? He's a human; you're a mermaid.

ARIEL
It doesn't matter!

KING TRITON
I'm still the king here – my word is law!
This filth you bring here is the final straw
And push, my daughter, has come to shove!
I'll make you obey
'til you do as I say
I don't care, come what may
But I'll keep you away
from that cruel, harsh, cold, vile world above!
Ad blocker interference detected!
Wikia is a free-to-use site that makes money from advertising. We have a modified experience for viewers using ad blockers

Wikia is not accessible if you've made further modifications. Remove the custom ad blocker rule(s) and the page will load as expected.